We invite you to become a part of this important project that will preserve over 3,000 acres of beautiful land, protect the local water basin, connect with other green areas to become part of a protected wildlife corridor, and provide the community with opportunities for environmental education, recreation, and community events. We need your participation to help make this a reality! Please "Like" our Facebook Page for updates on the park and FLOC.
Upcoming Events:
April 15th, 11 am – Hope for Hawthorne presents the Annual Community Easter Egg Hunt!
All are welcome to this free event starting at 11 am.  Breakfast will be served, as well as a bounce house and face painting. Join your neighbors for fun for the whole family!
Previous News/Events:
Park and Preserve Opening! Saturday, January 21st.
10:00 a.m. – Ribbon Cutting and Remarks from City & County Officials
11:00 a.m. – Guided hikes/hay rides on Little Orange Creek Preserve
Noon-3:00 p.m. – Lunch and Live Music
FLOC Annual Public Meeting – Thursday, June 23rd, 6:30 – 8:00 PM
We will celebrate all of our successes through the past year and report on our plans for the future.  We'll have sandwiches and hors d'ouevres on hand, along with a cold beer to make the meeting go down smoothly, so come on out to Hawthorne City Hall.  Come early to mingle and eat from 6:00 – 6:30!!  For more information, contact Randi Cameon, FLOC President, at 352-359-2603.
Fourth Annual William Bartram Heritage Day – Saturday, March 5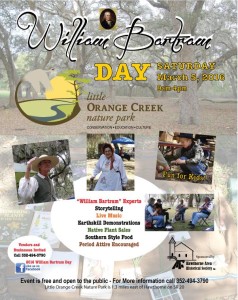 Join us for a fund day for the whole family!  Live music, native plant sales, storytelling, booths of handmade crafts, local artists, Earthskills demonstrators and southern style food will give visitors a glimpse of what life was like in William Bartram's time. The event will feature "William Bartram" in costume and first person giving a fascinating talk for both adults and children about his work as a Naturalist during his visit to our area of Florida in 1774. We encourage visitors to 'dress the part' to help create an "Old Florida" atmosphere. For further information call Janis Brown-Stallings at 352-494-3790.
Join the 2016 Facebook Event!
Vendors, Artists, Businesses and Non-Profits interested in attending William Bartram Day
Please review the letter to vendors, application, and agreement. All vendor fees proceeds are put directly back into the park. Please contact Janis Brown-Stallings with any questions at janisbrown48@gmail.com.
We are encouraging all local businesses, churches and Chamber Members to consider having a table supporting your particular business. We encourage you to consider having a small game or craft for kids to do to help draw people to your table. An example – the Episcopal Church will be offering pine cone bird feeders for the kids to make. Event is sponsored by the Hawthorne Area Historical Society.
Florida Earthskills Gathering: Living Skills for People and Planet – February 17-21
The Florida Earthskills Gathering is a unique blend of enthusiasts who bring abundant skills and a great spirit of co-creation to this homespun gathering. By gathering here, we acknowledge that the time is ripe for modern, "civilized" humans to become more ecologically aware, to reclaim the true meaning of sustainability, and to help grow a culture of thriving which can only be achieved by living in symbiosis with each other and with our beloved Earth.
With more than 70 instructors sharing skills for adults and kids, plus morning and evening programming, there's something for everyone to enjoy!
Visit http://www.floridaearthskills.org for more information and to register. Online Prices for Main Event are available from January 12- February 14. At the Gate Prices for Main Event are available starting at 2 pm on Feb. 16th. Event is sponsored by the Putnam Land Conservancy.
Third Annual William Bartram Heritage Day – Saturday, March 21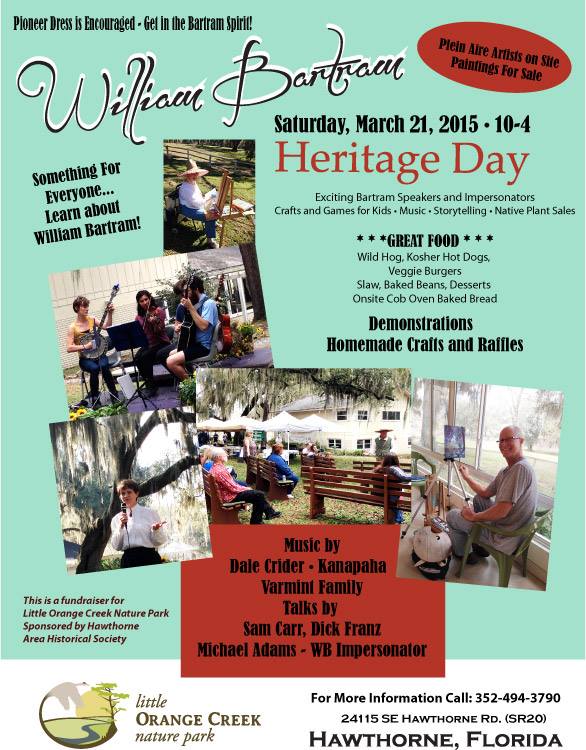 Join the 2015 Facebook Event! For photos from the 2014 year's event, visit the Facebook Album.
Vendors or Artists interested in attending the event, please review the application ( vendor / artists ). Please contact Janis Brown-Stallings with any questions at janisbrown48@gmail.com.
A big thank you to all our sponsors for the 2015 WBHD event!
Plein Air Artists of Little Orange Creek Nature Park – Art Exhibit at Hawthorne Historical Society
Artists exhibit their work from the William Bartram Heritage Days Plein-Air event on Feburary 22nd at Little Orange Creek Nature Park. Opening reception March 14, 12 – 4 pm. Show dates March 8 – April 26.
Address: 7225 Southeast 221st Street, Hawthorne FL.
Friends of Little Orange Creek (FLOC) Annual General Meeting – March 20, 2014, 5:30 pm at Little Orange Creek Nature Park
Meeting open to FLOC members and the public to hear updates on the Friends group and the Park.
If you are interested in serving on the FLOC Board, we are looking for folks with these specific skills/interests
1) Fundraising
2) Grant writing
3) Graphic Arts
4) Event Planning
5) Office management/document organization/data management
Please contact FLOC President, Julie Thaler (president.floc@gmail.com) for more information.
William Bartram Heritage Day – February 22, 2014, 10 am – 4 pm at Little Orange Creek Nature Park

The event included live music provided by local musicians, experts giving talks on William Bartram, food of the time period (Lochloosa catfish, grits, hushpuppies), local artists painting throughout the day and displaying their work, earth skills folks demonstrating period crafts, and informational tables from local community groups.
Photos from the event are available on the Little Orange Creek Nature Park Facebook Page.
Event hosted by the Hawthorne Area Historical Society.
2014 Florida Earthskills Gathering – February 6 – 9, 2014 at Little Orange Creek Nature Park
To register and for more information, visit www.floridaearthskills.org or the group's Facebook Page. Photos from the event are available on the Little Orange Creek Nature Park Facebook Page.
Great News! The Elizabeth Ordway Dunn Foundation grant awarded FLOC's full request of $28,000!
As a result of the grant, we now have full funding for the engineered master plan. Soon, we will install an outdoor nature pavilion and ADA compliant bathroom facility. At that point, we will be able to open the park.  Within the next year, we will renovate the house to make it ADA compliant as well. Thank you to Randi Cameon for all her hard work in securing these much needed funds for the park! For more information about the details of the funding for the park, click here.
Envision Hawthorne Meeting – June 26th
Chester Shell Elementary School, 21633 SE 65th Ave, Hawthorne, FL 32640
Community Workshop 6:30 – 9:00 pm. Registration and light dinner 5:30 – 6:30 pm

Plum Creek will be holding an Envision Alachua evening, asking for participation and brainstorming regarding the future development of a business park and housing development on property owned by them which extends along Highway 20 east of Gainesville all the way to Highway 301.  They may have a vested interest in seeing the Hawthorne area develop and seeing the park develop into a resource for the residents and employees they will be bringing to the area.
We hope that their meeting is well attended, and encourage you to come, bring your input regarding your concerns and interests for development in the area, and your enthusiasm for development of Little Orange Creek Nature Park.
FLOC General Meeting – Monday, April 15th 6:30 pm, Hawthorne City Hall
This years general meeting will be April 15th, two weeks after the "open house" event of William Bartram Trails Day. This is an opportunity for members and guests to learn about the progress of FLOC and the park. FLOC is looking for new Board of Director members and others interested in helping serving the park. We hope you will join us.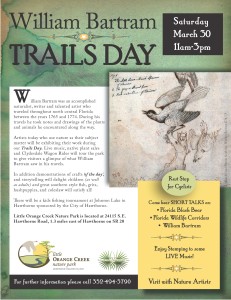 William Bartram Trails Day – Saturday, March 30th 11 am – 3 pm at Little Orange Creek Nature Park
Come see Little Orange Creek Nature Park and learn about William Bartram, naturalist, writer and artist, who traveled through out central Florida between 1765-1777. There will be local artists, wagon rides, craft demonstrations, live music and food. This is a great opportunity to see what the park is becoming and socialize with Friends of Little Orange Creek and other local groups.
2nd Annual Hawthorne Heritage Day – January 19th, 2013
FLOC and the City of Hawthorne tabled at the 2nd Annual Hawthorne Heritage Day, January 19th. The event was hosted by the Hawthorne Area Historical Sociey at the Historical and Curtual Center, many different groups participating.  Historical Society Members dressed in period clothing to enhance the theme of 'heritage' for the day.  Children were entertained with old fashioned activities from Crones' Cradle such as building bird houses, making candles, playing checkers, washing clothes on washboards and digging for potatoes.  Antique cars were on display from the Hawthorne "Coming Home" Car Club.  The savory BBQ chicken cooked by Pop Herring and company and served by Linda Hill and Ina Kay Morgan was a big hit with the crowd…not to mention the delicious baked beans prepared by Billy and Barbara Carlton.  The Hawthorne Branch Library also had a table, and Candy David from the library was a storyteller enjoyed by all.  Hawthorne's Martial Arts School gave an impressive demonstration, and Touch of Class provided karaoke music.  The Historical Society also held a raffle with great local prizes and brought in Sharon Ferrero from the Old House Network in Kalamazoo, Michigan for an informative talk on restoring old windows and maintaining the historical heritage of buildings. Overall the event was a great success with over 400 people in attendance. We were grateful for this opportunity to interact with the Hawthorne community, and we hope to see many of you at the event next year!
October, 2012 – Vote for FLOC's volunteer Michael Stallings on Facebook
Mike has been with the Little Orange Creek Nature Park project from the start; from grant writing to acquire the property, to his current, primary role as our volunteer property manager. On any given day, you can find him on the property mowing, trimming and removing trees, cleaning up the historic cemetery, or setting and tracking wildlife cameras. Mike generously invites people to tour and explore the property with him, looks after our volunteers, recruits Friends of Little Orange Creek members and acquires donations and funds for the park. But Mike is more than just a great volunteer, he also makes our program and community better. He has mentored kids by giving them direction and teaching them responsibility, and one of his goals for this park is to have a place for kids to grow and become responsible and productive stewards of the environment. He is interested in people as individuals; not just in what they bring to the project.
Unfortunately, Mike didn't win the Facebook contest. However, all who did vote expressed the far reaching gratitude people have for his service.