Little Orange Creek Environmental Education Program

Since April of 2017, Little Orange Creek has partnered with organizations in the area to provide an environmental education program to local schools.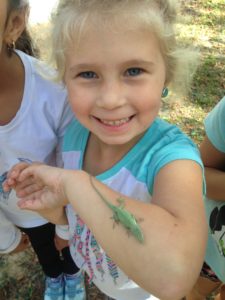 The environmental education program was created to fulfill the original vision of the Little Orange Creek Nature Park's purposes created by Dr. Kathy Cantwell. Although Kathy has since passed away, her vision is being carried out in the program currently being developed.
Programs currently offered at the park serve 4th grade classes from east Gainesville/Alachua County schools as well as nearby Putnam county schools. Students are able to engage with environmental topics in a hands on way through our park resources. Programs prepare students to be citizens of the future, as well as teaching that students are valuable citizens in the present who can contribution to their local community.  Programs are also designed to align with Next Gen/Sunshine State Standards.
Our program partners with the Hawthorne Library, IFAS Fishing for Success, and Alachua Conservation Trust to provide educators, materials, and transportation for  on-site field trips. Our program would not be possible without their assistance and support!
For more information about the program or if you are interested in volunteering, contact the Education Coordinator at floc@littleorangecreek.org.